Baptism is going public about your faith in Jesus and communicating to the world your heart-felt commitment to following Him. It's the next step after salvation.
The Bible teaches that baptism is a symbol – it is an outward expression of an inward decision. In the life of every Christian, Baptism is an important first step of obedience to God in which that new child of God declares to others their faith in Christ. Just as a wedding ring identifies a husband with his wife, baptism identifies a Christian with Christ. That identity is in Christ's death, burial, and resurrection.
Why Should I Be Baptized?
1. Because Jesus was baptized and we want to follow His example.
Mark 1:9
In those days Jesus came from Nazareth in Galilee and was baptized in the Jordan by John.
2. Because Jesus commanded it and we want to obey Him.
Matthew 28:19–20
Go, therefore, and make disciples of all nations, baptizing them in the name of the Father and of the Son and of the Holy Spirit, teaching them to observe everything I have commanded you. And remember, I am with you always, to the end of the age."
3. Baptism is a symbol that I believe in Jesus Christ as my Savior.
Acts 2:41
So those who accepted his message were baptized, and that day about 3,000 people were added to them.
What is the meaning of Baptism?
Baptism illustrates Jesus' death, burial and resurrection.
Colossians 2:12
Having been buried with Him in baptism, you were also raised with Him through faith in the working of God, who raised Him from the dead.
Baptism illustrates my new life as a Christian.
Romans 6:4
Therefore we were buried with Him by baptism into death, in order that, just as Christ was raised from the dead by the glory of the Father, so we too may walk in a new way of life.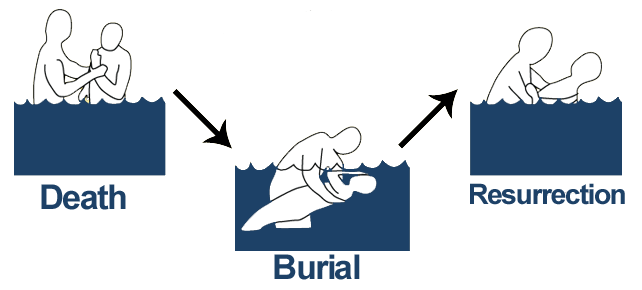 Baptism does not make you a believer, it symbolizes that you already believe. It's important to understand that baptism does not "save" you.  You are "saved" only through your faith in Jesus.
Ephesians 2:8–9
For you are saved by grace through faith, and this is not from yourselves; it is God's gift- not from works, so that no one can boast.
Who Should Be Baptized?
Every person who has believed in Christ.
Acts 8:12
But when they believed Philip, as he preached the good news about the kingdom of God and the name of Jesus Christ, both men and women were baptized.
Acts 8:26-39, the Eunuch asked to be baptized. When the Eunuch desired to be baptized Philip said to him, "If you believe with all your heart you may." The eunuch confessed he did believe and was then was baptized.
An important thing to know is that if you were baptized as a baby, it is not the same thing as Biblical believer's baptism. As seen in the verses above, baptism is a decision that one makes after they commit their life to Christ for salvation and it is a decision that only the person who is being baptized can make.
Many parents have their children baptized as a sign of dedication to God. Many churches have a dedication service for infants and children that emphasize the parent's role in raising a child to follow Christ. While such ceremonies certainly have meaning for the parents, the Bible clearly teaches that any person who receives Christ by faith should then follow that commitment by being baptized.
Since baptism is for those who have believed and repented, we do not practice infant baptism.  For those families who wish for the church to pray for their baby, we offer baby dedications where the family commits to raise the child in a Godly home.
Why Baptism by Immersion?
Because Jesus was baptized that way.
Matthew 3:16
After Jesus was baptized, He went up immediately from the water. The heavens suddenly opened for Him, and He saw the Spirit of God descending like a dove and coming down on Him.
The word "baptize" actually means "to submerge or to dip under water." Immersion best symbolizes a burial and resurrection. "When someone becomes a Christian he becomes a brand new person inside.  The old life has passed away and a new life has begun." 2 Corinthians 5:17
What If I Am Not Baptized?
While baptism is not required for salvation, it is an important step of obedience to Christ. Believer's Baptism is a prerequisite to membership of Barwick Road Church. The Christian who chooses to not be baptized could be compared to a wife who rejects her wedding ring. How can my relationship with Christ start off right if I refuse to follow Him or if I am ashamed of Him before others? By not being baptized, I am disobeying Christ and actually telling Him that I am ashamed that He is my Savior. Additionally, I am missing the blessing of committing myself to Christ through obedience and therefore losing the testimony I might have through my public identification with him.
John 8:31
"If you continue in My word, you really are My disciples."

John 15:14
You are My friends if you do what I command you.